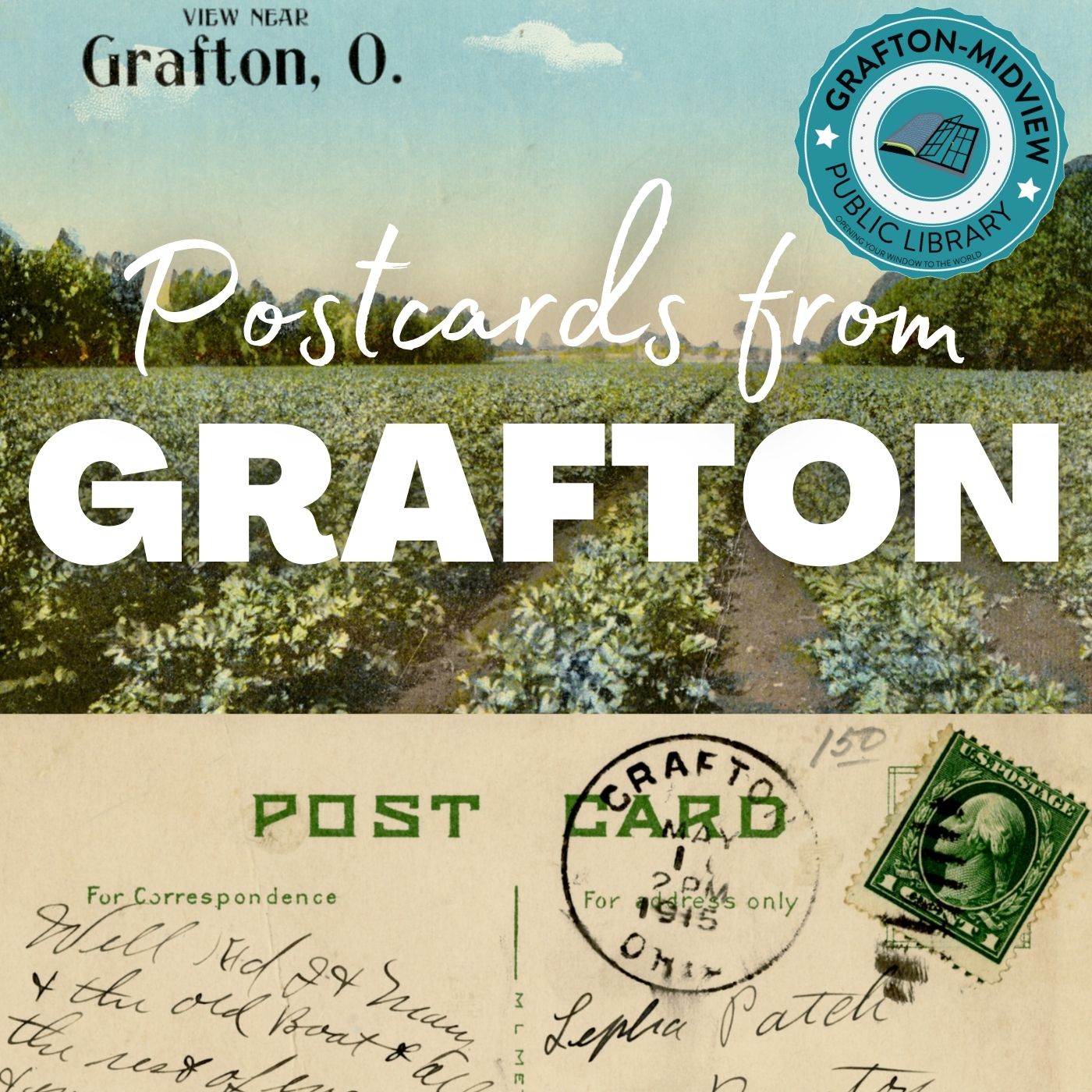 If you've ever visited the Grafton area, you've probably noticed a soybean field or two, farmhouses, the train tracks, or maybe even the library. Do you know the stories behind these places and the people who call this area home? This is Postcards from Grafton. We're two librarians and historians from the Grafton-Midview Public Library exploring the most fascinating people and places in our community and everything in between. Our history matters. Our community matters. Enjoy the stories. This podcast is made possible by the Grafton Village History Association. For more local history resources, including photographs, oral histories, newspaper articles, and more, visit gmplibrary.org/localhistory.
Episodes
Monday Jul 19, 2021
Monday Jul 19, 2021
We've been thinking a lot about food and farmers. When you drive through the Grafton area, it's hard not to notice the large fields of farmland or a tractor traveling down the road. With the COVID-19 Pandemic we're cooking more at home, and questioning our shopping and dining habits and the origins of the food on our plates. Less than 2% of the U.S. population has a role in food production. We're chatting with three farmers in our community: Hannah DiVencenzo, and Jason and Angela Schriver. They are passionate and committed to growing livestock and crops in ways that are good for their families, their community, and the climate. Our conversation includes organic farming practices, the impact of technology and regulations, the Lorain County Farm Bureau, and how the farming tradition can be continued with younger generations.    
Hannah and Joe DiVencenzo currently sell eggs, whole pasture-raised chickens, and honey. Their farm, Healthy Harvest Organics, is located at 16397 Island Road, Grafton, Ohio. They can reached through their website, email, and social media channels below:    
www.healthyharvestorganics.com
healthyharvestorganics@gmail.com
https://www.facebook.com/HealthyHarvestOrganics
https://www.instagram.com/healthyharvestorganics/
Jason and Angela Schriver are third and second generation farmers respectively. Jason took over his family's farm in 2000 and farmed conventionally for 16 years. In 2018, the Schrivers transitioned to organic agriculture and were certified organic (row-crop). Jason has been on the Lorain County Farm Bureau Board for 5 years, and currently serves as Vice President. Angela is currently serving as a supervisor for the Lorain County Soil and Water District. Over the past several years, the Schrivers have become active in public policy concerning agriculture, including meeting with Ohio State Senators and members of Congress, and making oral comments during the National Organic Standards' biannual meetings. The Schrivers have focused primarily on declining organic integrity, particularly how large commercial farms have used their lobbying power to whittle away standards and fraudulent organic products, especially those entering the market from overseas. The Schrivers have hosted a State Soil and Water Supervisor Field Day at their farm in addition to an organic field day for the Community Farming Outreach Initiative. They have recently opened their farm to the public for walks along their 40 acre sunflower field. The Schrivers can be reached through their social media page below:
https://www.facebook.com/SchriverFamilyFarms/
For more information about the Lorain County Farm Bureau, including events, farmer profiles, membership, and more, please visit https://ofbf.org/counties/lorain/.