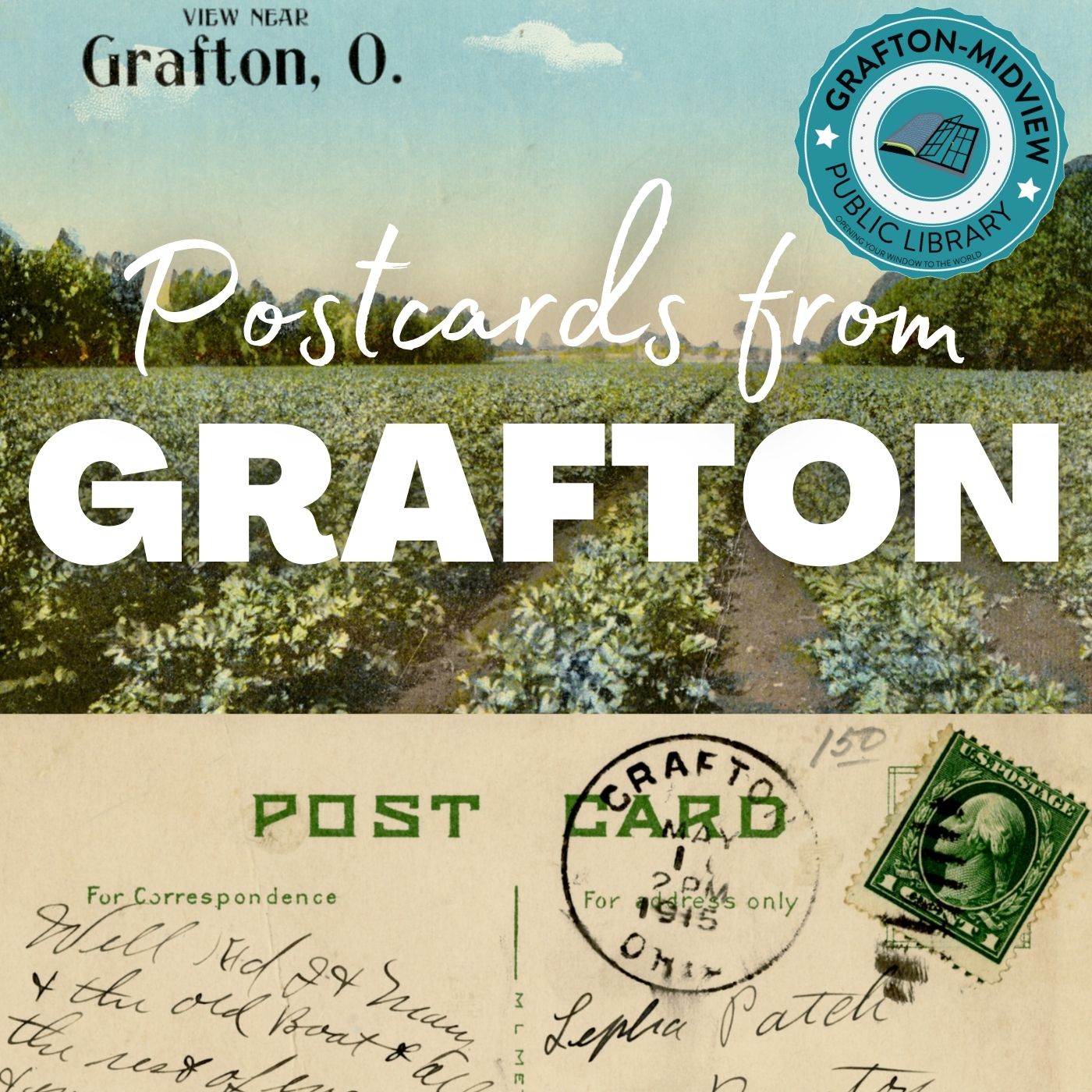 If you've ever visited the Grafton area, you've probably noticed a soybean field or two, farmhouses, the train tracks, or maybe even the library. Do you know the stories behind these places and the people who call this area home? This is Postcards from Grafton. We're two librarians and historians from the Grafton-Midview Public Library exploring the most fascinating people and places in our community and everything in between. Our history matters. Our community matters. Enjoy the stories. This podcast is made possible by the Grafton Village History Association. For more local history resources, including photographs, oral histories, newspaper articles, and more, visit gmplibrary.org/localhistory.
Episodes
Monday Jun 21, 2021
Monday Jun 21, 2021
Author and artist Renee Durkee Atkinson holding her book Rum Run.
The Durkee Farm during the 1870s.
The Orchard Cheese Factory at the corner of Butternut Ridge and Durkee Road. Atkinson's great-great grandfather and Civil War veteran Oel Durkee stands in front. 
Our special guest made a of couple errors when chatting with us (It happens when there's so much to discuss!) First, there are four Revolutionary War soldiers buried at Butternut Ridge Cemetery in Eaton Township, making it the only cemetery in Lorain County to have that many. Second, the Civil War Centennial observation at Butternut Ridge Cemetery, when the Cemetery was presented with it's award, took place in 1960, not 1860.   
We're talking with a true Renaissance woman who blends her love of history and nature into her many creative pursuits: Renee Durkee Atkinson. Atkinson is a sixth generation farmer and has raised horses, sheep, cows, and crops over the course of her life. She is an award-winning artist with a fondness for painting historical barns and animals, and she is a published author. She is actively involved with the Butternut Ridge Cemetery in Eaton Township and loves visiting Civil War sites. In this episode Atkinson shares with us stories of the Durkee family and the struggles experienced by farmers in our community; the ways in which the Butternut Ridge Cemetery honors veterans and some of the famous people buried there; the inspiration behind her paintings; and details about her upcoming novel based on the diary of a Civil War soldier. Fred and I walked away from the conversation truly inspired and we hope you do too.
Atkinson's first book is called Rum Run. In 1928, Rusty loses his job as a Lake Erie tugboat deckhand and can no longer afford his charter boat business. Out of desperation, he turns to the Trapani family and begins hauling grape juice. After several successful trips, Al Trapani offers Rusty the chance to run illegal alcohol from Canada. Atkinson brings the Prohibition era to life, and illuminates a piece of history that takes place right in our backyard in gorgeous detail. Rum Run is available at the Grafton-Midview Public Library. For more information on Renee Durkee Atkinson, visit her website at https://www.rcdurkee.com/. 
Four generations of Durkees on the family farm, 1962. From left to right are Atkinson's great grandfather, Elza; grandfather, Orin; father, Duane; and brother, Derek. Atkinson's great-great grandfather, Oel Durkee, purchased the land in 1834. The above photograph accompanied an article on the Durkee Farm's history in the Elyria Chronicle Telegram on October 4, 1962.
Grafton Train Tower, watercolor. This work was painted before the train tower was moved and the statue added. The large oak tree stood to the left of the present day laundromat. The Elyria Saving and Trust Bank in downtown Grafton purchased the original painting and Atkinson has sold smaller prints of it over the years.
Ron's Barn, watercolor. 
Atkinson hiked the Black Hills and drew the abandoned mines she came across. This piece is Holy Terror Abandoned Mine, South Dakota, pen and ink.
At Pond's Edge, Wood Ducks, acrylic.