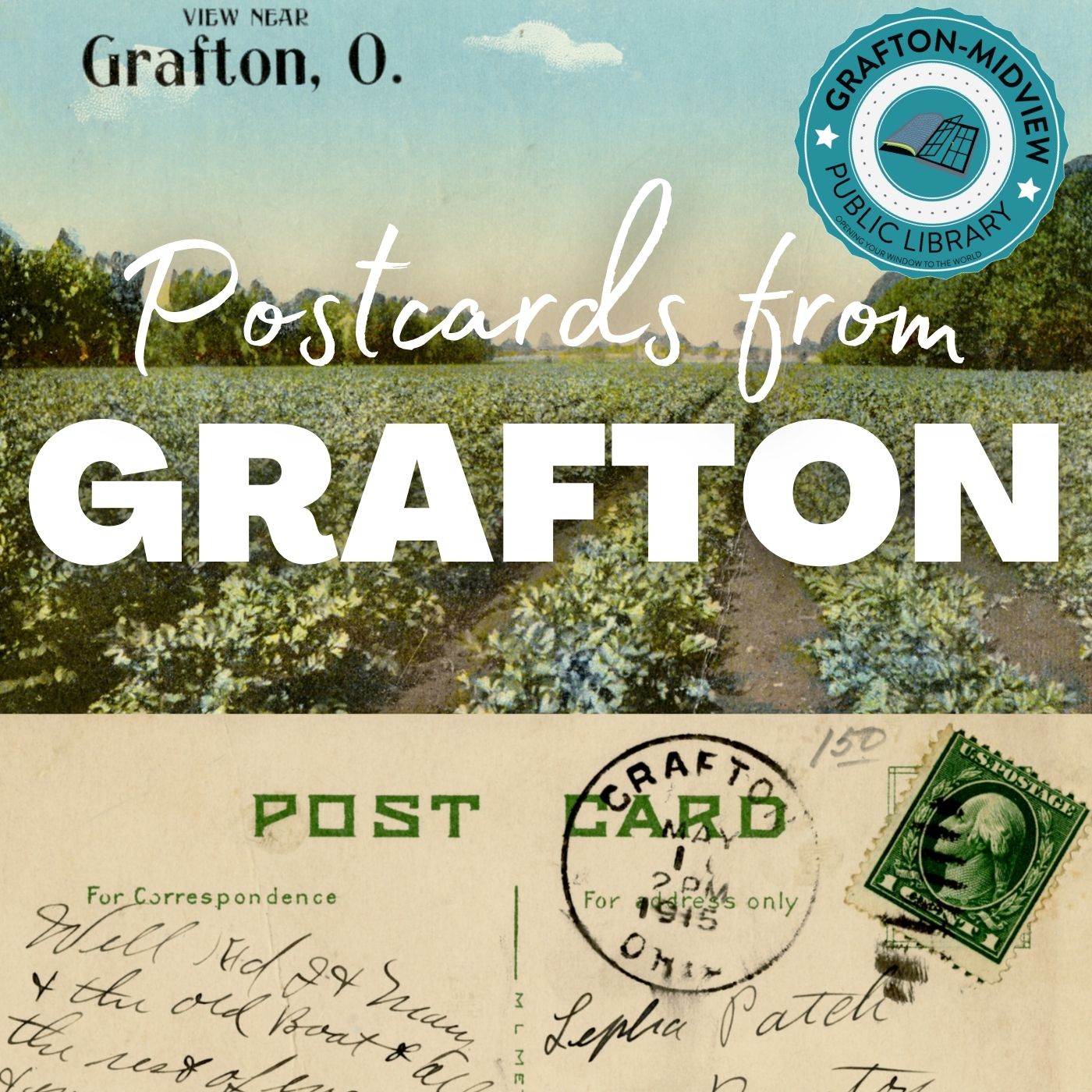 If you've ever visited the Grafton area, you've probably noticed a soybean field or two, farmhouses, the train tracks, or maybe even the library. Do you know the stories behind these places and the people who call this area home? This is Postcards from Grafton. We're two librarians and historians from the Grafton-Midview Public Library exploring the most fascinating people and places in our community and everything in between. Our history matters. Our community matters. Enjoy the stories. This podcast is made possible by the Grafton Village History Association. For more local history resources, including photographs, oral histories, newspaper articles, and more, visit gmplibrary.org/localhistory.
Episodes
Monday Jul 12, 2021
Monday Jul 12, 2021
Miss Katie and Miss Kari showing off the new 1,000 Books Before Kindergarten train in the summer of 2020; and Miss Maggie, Miss Katie, and Miss Kari celebrating the arrival of caterpillars in spring of 2021.
We had a little trouble getting Fred's microphone to sync this episode. His voice carries, but there are a few moments where Katie and Kari's laughter drown him out. This is what regularly happens in the Youth Services Department, but nonetheless we apologize for any listening inconveniences.  
A lot of things happen in a library, like having storytimes in an old bank vault. Or discovering a dozen donuts in the wall when renovating. Or finding an abandoned kitten during a summer reading kickoff. Or a global pandemic that flips everything upside down. To complement our previous conversation with GMPL veterans, this episode features two of the newest members of the Library, Katie Corcoran and co host Kari Mariner. Katie and Kari discuss what brought them to GMPL, what youth services look like behind the scenes, and what it's been like to be a librarian during the COVID-19 Pandemic. 
Harriet Spitzer spearheaded efforts to organize a free public library to serve the Grafton community in the early 1940s. In 1944, the Grafton-Midview Public Library was chartered as a school district library. The Library was housed in the Grafton School on Elm Street for a couple decades before moving to a vacated bank building on Main Street in 1971. In 1991, a renovation expanded and updated the building. The Grafton-Midview Public Library is one of seven independent public libraries in Lorain County and serves approximately 24,000 residents in Grafton Village, Grafton Township, Eaton Township, and parts of Carlisle Township and Elyria. For more information about GMPL, visit https://www.gmplibrary.org/.